JV companies
under Ganope Supervision
PeRSISTENT SUCCESS AND
BOUNDLESS AMBITIONS

Was established as one of the five main entities of the Egyptian Petroleum Ministry according to Prime Minister Decree No.  1755/2002 in accordance with law No. 203/1991 to manage and supervise all petroleum activities under latitude line 28º
Thanks and Appreciation to PetroGulf Misr Co.
Dr. Eng. Nael Darwish -Chairman of GANOPE– Expressed his sincere thanks and appreciation to Petrogulf Misr Co.;
Chairman and Managing Director, Eng. Abdel Wahab El Maghoury, General Manager and Managing Director,
Geo. Hamed Ibrahim, and all Company Teamwork, for the significant achievement.
As the drilling operations of the evaluation well GNN-7 has led to
production increase of 4000 bbl per day realizing a 100% daily production increase.
WELL DONE!
SEG Workshop Opening (The Red Sea: Unlocking Future Hydrocarbon Potential)
UNDER THE PATRONAGE OF:
H.E. ENG. TAREK EL MOLLA,
MINISTER OF PETROLEUM AND MINERAL RESOURCES
SEG Workshop
The Red Sea: Unlocking Future Hydrocarbon Potential
20–22 March 2022 | Hurghada, Egypt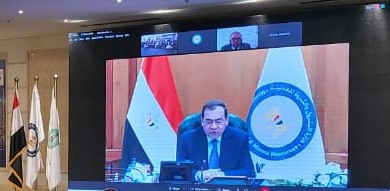 H.E. Eng. Tarek El Molla, Minister Of Petroleum and Mineral Resources, has opened the 2nd Red Sea Workshop, which is organized by GANOPE in collaboration with SEG, via video conference.
That was in the presence of Dr. Nael Darwish, Chairman of South Valley Egyptian Petroleum Holding Company "GANOPE", leaders of the IOCs operating in the Red Sea region, 115 experts representing 36 companies from 7 countries, and Professors of Universities and research institutes.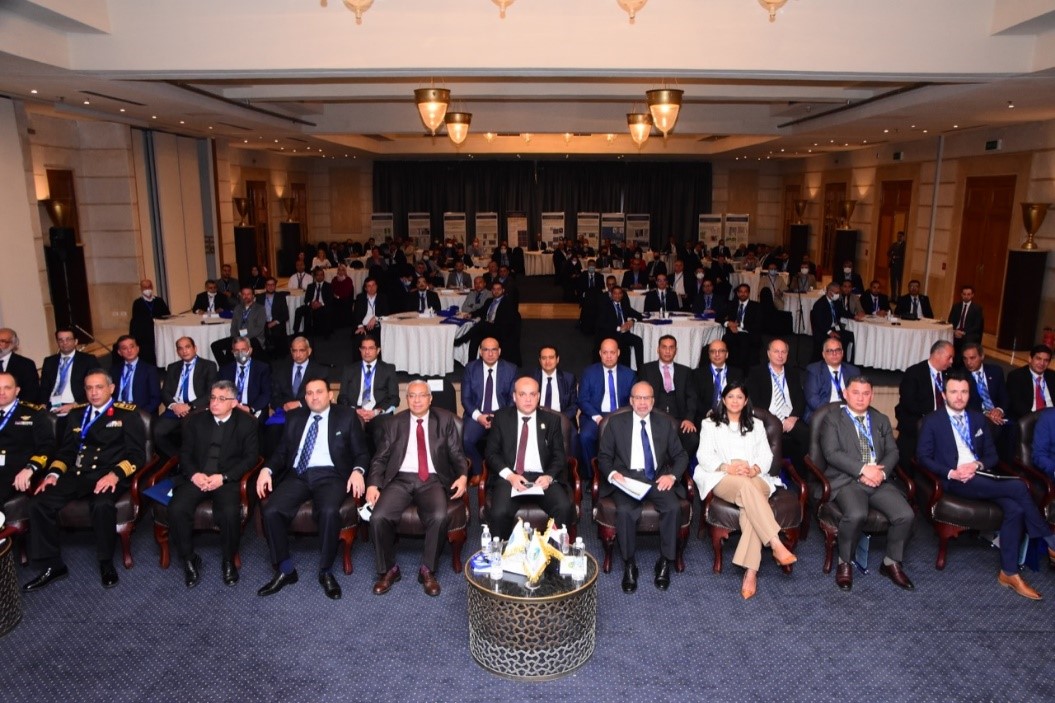 The General Assembly of South Valley Egyptian Petroleum Holding Company "GANOPE" to Approve the Budget Plan for the fiscal year2022/2023
South Valley Egyptian Petroleum Holding Company "GANOPE" has successfully participated in the activities of The Egypt Petroleum Show and Conference "EGYPS 2022"

HELD UNDER THE PATRONAGE OF HIS EXCELLENCY ABDEL FATTAH EL SISI, PRESIDENT OF THE ARAB REPUBLIC OF EGYPT
The Egypt Petroleum Show EGYPS 2022
"North Africa and the Mediterranean: Delivering Energy Today"
From 14 – 16 February 2022
At the Egypt International Exhibition Center
President El-Sisi Inaugurates Egypt Petroleum Show and Conference
 "EGYPS 2022"
President Abdel Fattah El-Sisi – President of the Arab Republic of Egypt– inaugurated Egypt Petroleum Show and Conference "EGYPS 2022", in its fifth session,  amid massive international and local participation of Ministers of Petroleum and Energy, Global CEOs, NOCs, IOCs, and Oil Industry Experts.
Eng. Tarek El Molla, the Minister of Petroleum and Mineral Resources, explained that the success of organizing EGYPS in previous versions, has given great impetus and importance to the current version by attracting more international participation to make the most of Egypt's oil and gas industry, as we aspire to attract more global and domestic investment.
EGYPS is the most important international and regional gathering for the Oil and Gas Industry in MENA. This year, The Show is being attended by 11 Ministers of Petroleum and Energy from several countries, as well as 19 Chairmen of International Oil Companies, leaders of 8 global oil organizations, which are: the Organization of the Petroleum Exporting Countries (OPEC), Organization of Arab Petroleum Exporting Countries (OAPEC), the International Energy Agency (IEA), the Eastern Mediterranean Gas Forum (EMGF), the Union for the Mediterranean (UfM), African Petroleum Producers' Organization (APPO), the World Energy Forum, and the Mediterranean Energy Observatory.
EGYPS 2022 is expected to receive about 26000 attendees, 25 national and international oil companies, 73 Conference Sessions, 260 Speakers, more than 1,900 Delegates, 450 Exhibiting companies, 7 Country Pavilions at the Exhibition.
EGYPS awards outstanding and impactful projects and programs from around the globe in Oil and Gas, as well as celebrating outstanding females across the North African and Mediterranean Energy Industry with the Women in Energy Conference and Awards.
Session About Geothermal Energy, GEB Project & Artificial intelligence At EGYPS 2022 Technical Conference
By: MSc. Eng. Nancy Azazy, section head in Energy Efficiency Department Ganope Co.,
representing Ganope Co. and the Egyptian Ministry of Petroleum and Mineral Resources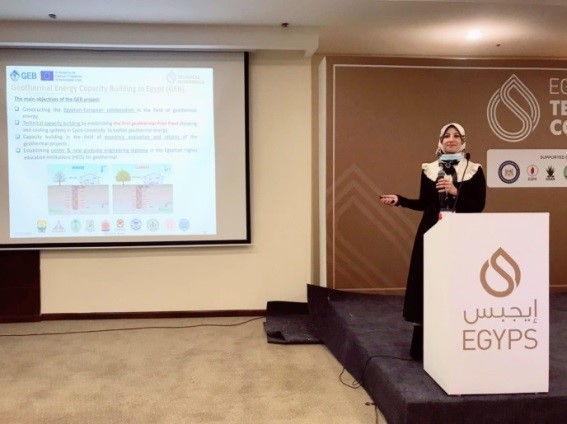 The Session titled  "Dynamic Modeling & Allocation of Controlled Geothermal Power Plant on The Distribution Network Using Artificial Intelligence" was a technical paper from her master degree research, about The Geothermal Energy and Artificial intelligence.
 Also "Geothermal Energy Capacity Building in Egypt" (GEB) was mentioned and  its main objectives. GEB Project is a Co-funded by the Erasmus+ Program of the European, coordinated by Cairo University and has ten Partners; GANOPE Co., New and Renewable Energy Authority "NREA", Ain shams University "ASU", Suez Canal University "SCU", Aswan University "ASWU", Egypt Japan University Of Science and Technology "E-JUST", three European Universities (University of Bologna "UNIBO", Universidad de Valladolid "UVa" &University of Zagreb "UNIZG".